Tooth Whitening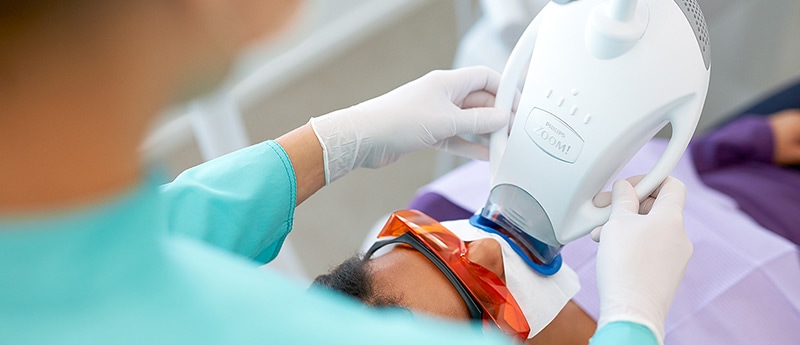 Today everybody wants the perfect smile and bright white teeth. With many makeover programmes on television, people are becoming more aware of cosmetic treatments to enhance their appearance & look younger. Tooth whitening is a simple non invasive procedure that can enhance a person's appearance and confidence.
Why whiten your teeth?
To look younger
To look better
To be more confident
What causes staining & discolouration?
Genetic factors, some people's dentine is yellow, brown or grey. This shows through the enamel to make the teeth look dark
Wear & tear or illness, can affect the colour of teeth
Tea, coffee, red wine, cola and smoking all cause staining and darkening of the teeth
Build up of tartar, cracks in enamel and root canal treatment can affect the colour of teeth
What can't be whitened?
All ceramic restorations, crowns, veneers, bridges, dentures will not change colour with whitening agents
Root canal treated teeth that go dark will need special internal bleaching to change colour. External whiteners will not work
All natural teeth will whiten, but the degree of change depends on the underlying colour of the teeth. Gray teeth don't whiten as well as yellow and brown. Yellow often give the best results.
Tooth whitening is safe & effective if used properly, and doesn't damage the teeth. Side effects are few, sometimes it may cause sensitivity, but this is only temporary, and will improve after a few days.
How long does it last?
Up to 3 years at best, but results will vary, and will be influenced by coffee, tea, smoking, red wine etc. You can top up your whitening when you feel they are darkening again, but the results will be better if done after a scale and polish at the dentist.
Types of tooth whitening
Tray whitening system
Laser in surgery whitening
Over the counter take home whitening
Whitening toothpaste
1. The tray system involves taking impressions of your teeth and making precision fitting whitening trays. Then your teeth are cleaned thoroughly in the surgery and you whiten your teeth at home with the special gels provided. This normally takes 1-2 weeks to complete and the results are very good. You normally leave the gels in for 2-3 hours or overnight for faster results. You control how far you whiten your teeth, and you can repeat the treatment over and over again with the trays, all you may need is to buy some more gel later. The gels used are gentle and less likely to cause sensitivity.
2. With the in surgery laser systems, we use the famous Philips Zoom! teeth whitening, it can make your teeth up to 6 shades whiter in just 45 minutes. Thanks to light-activated technology, you can see dramatic results in less time than your lunch break.
Why choose Philips Zoom! in-practice whitening?
When you choose in-practice teeth whitening, stronger whitening ingredients are used to safely complete your treatment. The result? Instantly brighter teeth, with little to no sensitivity
3. Over the counter systems tend to take a long time for whitening to occur and the results tend not to be as good. This is because they can only use gels with a very low concentration of bleaching agent and the process will take many applications.
4. Whitening toothpastes can enhance the effect of whitened teeth, and will improve the appearance of your teeth. They owe much of their effect to the silica abrasives in the paste which remove stains on the teeth. The whitening agents are unlikely to have much effect because their concentrations are very low and they are only in contact with the teeth for a few minutes.
Yes, you can whiten your teeth, improve your appearance and confidence without damaging your teeth. Which system you choose depends on which you prefer, both the tray system and laser will whiten your teeth.